Internal Cell Phone Antenna Booster Stickers
---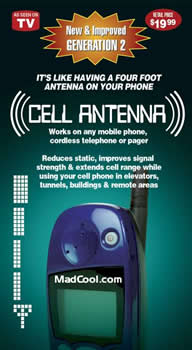 New and Improved Generation 2 version for as low as $1 with free shipping!
The Antenna Booster is a passive device designed to capture stray radiation in the body of the phone and to re-radiate the signal to improve the phone's performance. AS SEEN ON TV for $19.99 + $5.00 shipping! These are brand new, individually wrapped in the black packaging. Don't be fooled by cheap imitations that doesn't work, or the older generation 1 version!

Improved Generation 2 Cell Phone Antenna Boosters
Our new generation 2 cell phone antenna boosters are better than ever! The antenna booster is now stronger, and comes in a shiny gold color. It also comes with instructions on how to install and test your new antenna booster.

The Benefits:
1) Huge impact - like having a 4 foot antenna on your cell phone.
2) Improves Reception, Reduce Static in boats, elevators, cars, buildings, tunnels, and mountains.
3) Works on any Analog, Digital, and Tri-band phones.
4) Eliminate dropped calls.
5) Easy to install, simply peel and stick to the inside of your battery compartment.
6) Each Booster is individually packaged ready to be given as a gift or for resale!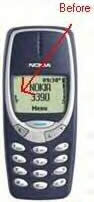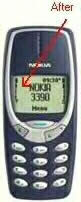 These Boosters are not only for Cell Phones... They can also boost the reception on Two Way Radios, PDA's, Walkie Talkies, Beepers, and even Cordless Phones in your house.

Easy To Install:
1) Remove your battery from the phone.
2) Clean and dry the area close to the device internal antenna where you want to apply the booster.
3) Carefully peel the booster from the backing.
4) Apply the booster into the phone( in the same direction of the existing antenna if possible).
5) If there is room for another cell phone booster, then go ahead and install a 2nd one.
5) Replace your battery and watch the signal increase!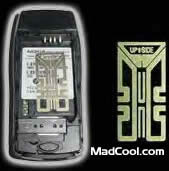 Does it really work?
Here is an independent tests, ran by a major TV stations, which has shown improvement to clarity and strength of signal. News Channel 2 NBC of Houston, Texas

On Sale for a limited time only! $1.99 with free shipping! Order Now!


1 Cell Phone Antenna Booster $1.99
10 Cell Phone Antenna Boosters $10


By Popular Demand. We are now offering Bulk Wholesale Rates!


100 Cell Phone Antenna Boosters $40
500 Cell Phone Antenna Boosters $125
1000 Cell Phone Antenna Boosters $175
5000 Cell Phone Antenna Boosters $500 (Best Value!)


International Orders - If your shipping address is outside of the United States, please use these links to order. The orders will be shipped via First Class USPS.


1 Cell Phone Antenna Booster $4
10 Cell Phone Antenna Boosters $15
100 Cell Phone Antenna Boosters $50
500 Cell Phone Antenna Boosters $150
1000 Cell Phone Antenna Boosters $250
5000 Cell Phone Antenna Boosters $600

That's as low $0.10 each! Sell them for a huge profit or give them away as gifts! All wholesale order of 100 or more includes FREE UPS Ground shipping within the continental US(does not include Alaska and Hawaii)! Bulk Wholesale orders of 1000 or more might take 2 weeks to arrive.

Be sure to check out our other cool products.

Payment Methods:
You can pay by

, Checks, Money Order, or Cash (at your own risk). We prefer PayPal, since it's allows you to pay with all major credit cards and eChecks. You don't even need a PayPal account to pay! Please be sure to include your shipping address. Contact us if you want to pay by cash, cashier checks, money order, and/or have any questions. Supply is very limited, so order now! All Sales are Final.