Safe Guard Cell Phone Radiation Blocker & Wave Filter Stickers
---
On sale for a limited time only! As low as $1 with free shipping!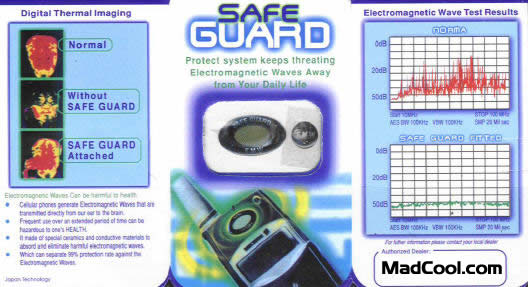 What is the SafeGuard?
Cellular phones generate Electromagnetic Waves that are transmitted directly from our ear canal to the brain. Frequent use over an extended period of time can be hazardous to one's HEALTH. Safeguard keeps threatening Electromagnetic Waves Away from Your Daily Life. Safeguard is made of special ceramics and conductive materials to absorb and eliminate harmful electromagnetic waves.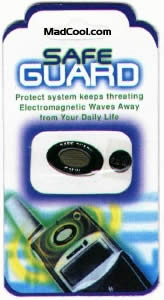 Benefits of Safe Guard:
- Save Guard is able to filter 99% of the harmful Electromagnetic Waves emitted from the ear piece of cellular phones.
- Protect yourself and loved ones from these potentially dangerous health threats.
- Fits all phone styles
- Attaches in second
- Soft/comfort cushion
- Will not affect reception

A small price to pay to protect your most valuable asset... Your Health!!
There has been considerable publicity in recent years concerning the very real fears of medical authorities around the world that electromagnetic waves, which emanate from mobile and cordless phones, may well be the cause of brain tumors and other very serious aliments of the head and ears.

The Safe Guard Absorbs between 80% to 99% of induced electromagnetic waves and actually improves reception sensitivity during phone use, It is an everlasting gold plated, high performance product and attaches to the earpiece of your phone by selfadhesive. Components were tested by Allgon Mobile Communications from Sweden with excellent results. Additional testing was performed E.M.C. Ltd. supervised by The Israeli Standards Institute, also with excellent results.

The efficiency of the material Safe Guard as far as a radiation protection is concerned is 14db, that is a fifth of the radiation without protection.


These Boosters are not only for Cell Phones... They can also boost the reception on Two Way Radios, PDA's, Walkie Talkies, Beepers, and even Cordless Phones in your house.

Each Booster is individually packaged ready to be given as a gift or for resale!

Easy To Install:
1) Clean the surface of the phone where you will stick the Safeguard
2) Remove Safe Guard from package.
3) Paste on the receiver part.
All Done! Easy and Simple! BONUS: There is a smaller round E.M.W (Electromagnetic Waves) sticker that you can place anywhere on your phone, preferable in the back of the headset.

We are currently sold out! Please check Back Soon.

On Sale for a limited time only! Most stores retails Safe Guards for $5 and up! Order Now!


1 Safe Guard $1.99
10 Safe Guards for only $10
Combo Special: 1 Cell Phone Antenna Booster & 1 Safe Guard for only $3.25!
100 Safe Guards $40
500 Safe Guards $135
1000 Safe Guards $190 (Best Value!)

By Popular Demand. We are now offering Bulk Wholesale Rates! That's as low $0.19 each! Sell them for a huge profit or give them away as gifts! All wholesale order of 100 or more includes FREE UPS Ground shipping within the continental US(does not include Alaska and Hawaii)! ** Safe Guard Wholesale orders of 500 or more might take 2 weeks to arrive.

International Orders - If your shipping address is outside the continental United States, you will need to use these links to order.


1 Safe Guard $4
10 Safe Guards for only $15
100 Safe Guards for $50
Combo Special: 1 Cell Phone Antenna Booster & 1 Safe Guard for only $6
500 Safe Guards for $175
1000 Safe Guards for $250


Be sure to check out our other cool products.

Payment Methods:
You can pay by

, Checks, Money Order, or Cash (at your own risk). We prefer PayPal, since it's allows you to pay with all major credit cards and eChecks. You don't even need a PayPal account to pay! Please be sure to include your shipping address. Contact us if you want to pay by cash, cashier checks, money order, and/or have any questions. Supply is very limited, so order now! All Sales are Final.